At Boulder Images, we love what we do, and it shows in our final product.
Every project is different, which makes each job unique and special.
Between our design staff and boulder artists, we infuse creativity
and experience to create a space most clients never thought possible by combining Boulder retaining wall with natural stone to create a unique experience to the property
Enjoy our gallery, with a few shots of what was, and what can be!
A kitchen addition that expanded the back of this house into the outdoor living space quickly turned a house renovation into an outdoor renovation as well. by using Boulder retaining wall with natural stone It's easy to see the difference in look and feel between boulders and concrete block wall. Once the boulders replaced the block, the entire space felt much cozier and inviting. I'm sure you'll agree! (See more in our Featured Project section.) Boulder retaining wall with natural stone is the perfect landscaping design media to bring change and usability to your property.
A huge renovation gave a brand new life to this old, desolate pool in beautiful Sogn Valley, just outside of Cannon Falls. The timber wall surrounding this pool had started to give way, so the homeowners decided to go with a product that would last forever – boulders! By using Boulder retaining wall with natural stone Entertainment areas coupled with planting pockets galore make this otherwise intimidating wall soft and inviting. The pool wall now fits into the surrounding natural beauty perfectly! See more at our facebook page.
This ranch home went from worst to first in it's Golden Valley neighborhood. A simple front entrance using Boulder retaining wall with natural stone remodel changed everything. Neighbors rave, and the owner looks forward to coming home to this oasis everyday!
A need for green space spurred the call to us from this Edina homeowner. With young children and no place to play or entertain, he asked us to get creative. Challenge accepted! We created a multilevel space that gives plenty of playroom for all ages. A stunning stone staircase connects the living areas for easy access, not to mention the appealing aesthetics!
Not every project is a remodel. Not every project needs Boulder retaining wall with natural stone Many of our clients choose to work with us in their new homes. This is a great example of how an elevated entry doesn't detract from a house, but enhances it. Creating a staircase full of platforms makes the journey easy, and allows people to enjoy the view along the way!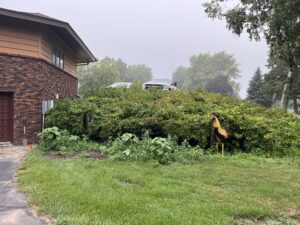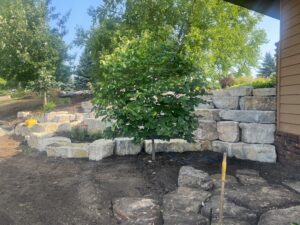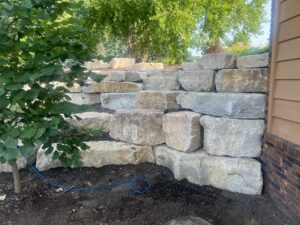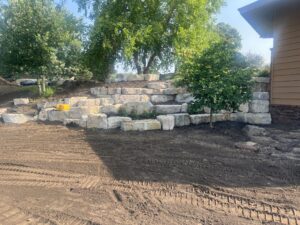 Enhancing Stability and Beauty with Boulder Retaining Walls in Prescott, Wisconsin
Introduction:
Retaining walls may not be the most glamorous feature of a landscape, but their importance should not be overlooked. In the charming town of Prescott, Wisconsin, boulder retaining walls are becoming increasingly popular due to their functionality and aesthetic appeal. In this article, we will explore the benefits of boulder retaining walls and discuss the importance of hiring professional retaining wall installers.
A Perfect Blend of Form and Function:
Boulder retaining walls offer the perfect blend of functionality and beauty, making them an ideal choice for property owners in Prescott, Wisconsin. These walls serve the critical purpose of preventing soil erosion and creating level platforms on sloped landscapes. Additionally, they add a touch of natural beauty to any outdoor area, enhancing the overall aesthetic appeal of the property.
Natural Aesthetics and Rustic Charm:
Prescott, known for its serene surroundings, can be beautifully complemented by boulder retaining walls. These walls are constructed using naturally occurring boulders, allowing them to seamlessly blend into the landscape. By choosing boulder retaining walls, property owners can enhance the rustic charm of their outdoor spaces while preserving the natural beauty that surrounds them.
Stability and Durability:
One of the primary reasons property owners opt for boulder retaining walls in Prescott is their exceptional stability and durability. Properly installed walls can withstand the test of time, ensuring that the landscape remains intact and retaining its original shape. These robust walls provide long-term benefits, requiring minimal maintenance and potential repairs.
Professional Retaining Wall Installers:
While the idea of constructing a boulder retaining wall may seem tempting to adventurous homeowners, it's crucial to consider the expertise and experience required for such a project. Professional retaining wall installers in Prescott, Wisconsin are equipped with the knowledge and skills to handle the complexities of retaining wall construction.
Hiring professionals ensures precision and efficiency in wall construction, maximizing the wall's functionality and minimizing potential issues that may arise from improper installation. Moreover, professional installers have access to the necessary equipment, enabling them to complete the project safely and in a timely manner.
Compliance with Regulations:
Another advantage of hiring professional retaining wall installers is their familiarity with local regulations and permits. Prescott, like any other town, has specific guidelines concerning retaining wall constructions to ensure safety and compliance. Professional installers are already well-versed in these regulations, saving property owners the hassle of researching and understanding the legalities involved.
Conclusion:
In Prescott, Wisconsin, boulder retaining walls are steadily gaining popularity for their functionality, natural aesthetics, and durability. By employing the expertise of professional retaining wall installers, property owners can enhance the stability and beauty of their landscapes while adhering to local regulations.
Whether you desire an eye-catching feature or need to address slope stability concerns, boulder retaining walls provide an excellent solution. Make sure to consult with professional installers who can transform your outdoor space into a safe, secure, and visually appealing haven.